Administration Technology
Primary tabs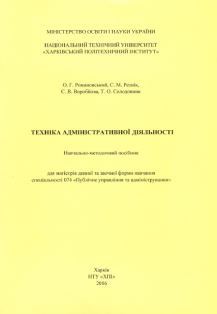 Романовський О. Г. Техніка адміністративної діяльності : навч.-метод. посібник / О. Г. Романовський, С. М. Резнік, Є. В. Воробйова, Т. О. Солодовник ; ред. О. Г. Романовський ; Нац. техн. ун-т «Харківський політехнічний ін-т»

. — Харків : ФОП Панов А. М., 2016. — 120 с.
 —  
Electronic analog of printed publication in the NTU «KhPI» Repository.