Okun Anton Oleksandrovych
Primary tabs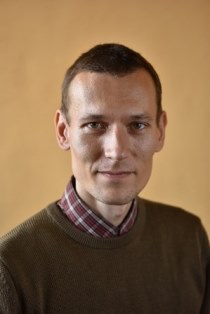 List of publications of A. O. Okun
Okun Anton Oleksandrovych is Candidate of Engineering Sciences, Assistant Professor of the Department of Metal Forming of National Technical University Kharkiv Polytechnic Institute.
Born on August 17, 1985 in Kharkiv. In 2007 he graduated with honors from V. N. Karazin Kharkiv National University and became a professionally qualified engineer.
2007–2008 — Technician-hydrogeologist of the Ukrainian Scientific and Research Institute of Environmental Problems;
 2008–2009 — Researcher, Ukrainian State Research Institute «UKRVODGEO» (UDNDI «UKRVODGEO»).
In 2009, he began to work at National Technical University «Kharkiv Polytechnic Institute» at the department «Lifting and Transporting Machines and Equipment». He took positions of Assistant Lecturer of the department and Senior Lecturer. Research interests: improving the control of a cable crane trolley movement; structural solutions in the design and construction of cable cranes; optimal control of lifting machines.
In 2018, he defended his Ph.D. thesis on the topic «Udoskonalennia keruvannia rukhom vizka krana za faktorom pozytsiiuvannia ta chasom vykonannia tsyklu» [Improving the control of a crane trolley movement by the positioning factor and cycle time]. At present, A. O. Okun works at the Department of Metal Forming of the Institute of Education and Science in Mechanical Engineering and Transport of National Technical University «Kharkiv Polytechnic Institute».
Courses readable:
Automatic machines, automatic lines and complexes in OMT.

The basics of CAD.

Press machines and automatic lines for OMT.