Research4Life Resources
Primary tabs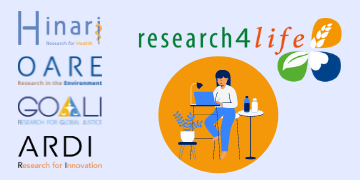 Access (under the license) to the Research4Life resources (https://www.research4life.org/). The  programmes Research4Life, Hinari, AGORA, OARE, ARDI and GOALI are coordinated by the World Health Organization, the Food and Agricultural Research Organizations, (FAO), the United Nations Environment Programme (UNEP), the World Intellectual Property Organization (WIPO), and the International Labour Organization (ILO) respectively. The programmes are a collaboration between the UN entities, academic, professional and scientific publishers and other content providers and are intended to provide access to research information to non-profit academic, research, governmental or policy making institutions in lower income countries. Access to this information will generally be provided at no cost by the Publishers to institutions in countries, areas and territories categorized as Group A  (https://www.research4life.org/access/eligibility/#groupa).
You can access the resources on the Research4Life portal  (https://www.research4life.org/) or on special portals:
Access is a subject to authorization by the terms of this Licence! Authorization data is provided individually only to persons who work or study at NTU «KhPI». To obtain authorization data, please fill out the form (https://forms.gle/rgx3bw4MhGNBwy4m7). After filling out the form, authorization data will be sent to the indicated corporate address (*@khpi.edu.ua, *@kpi.kharkov.ua).