Mykhailychenko Valentyna Yevdokymivna
Primary tabs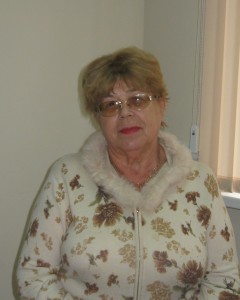 Mykhailychenko Valentyna Yevdokymivna is Professor of the Department of Pedagogy and Psychology of Social System Management, Associate Professor, Candidate of Philosophy.
Born on October 13, 1940 in the village of Irsha, Rybinsk district of Krasnoyarsk region (Russian Federation).
In 1961 she graduated from the Economic faculty of Donetsk Soviet Trade Institute (now it is M. Tugan-Baranovsky Donetsk National University of Economics and Trade).
During the 1961–1965 period she worked as economist at the City trade of manufactured goods department in Kyiv and at the City Administration of catering in Kharkiv. 1965–1980 was researcher at All-Union Scientific Research Institute for Single Crystals, (now – State Scientific Institution «Institute for Single Crystals» of National Academy of Sciences of Ukraine). In 1974 defended a Ph.D thesis in philosophy entitled «Problems of increasing the efficiency of the academic professionals of sectoral Research Institute». In 1993 she was awarded the Degree of Associate Professor. Since 1980 has been working at NTU «KhPI».
The main focus of research of Valentyna Yevdokymivna is the training of future professionals for the development and self-development in the conditions of continuing education based on the theory of philosophy, psychology and pedagogy of success.