Collected Works
Primary tabs

On February 20, 2017, there was held the opening of the art exhibition «Collected Works»
by Ukrainian artist, the former student of the Polytechnic University Vadym Koltun.
The event took place in the conference hall of the library.
​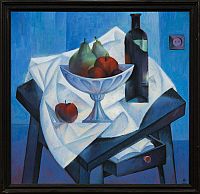 During the opening of the exhibition Associate Professor of the «Ethics, Aesthetics and History of Culture» Department Mykhailo Krasykov, Director of the Hnat Khotkevych Ethnographic Museum «Slobozhanskі Skarby», pointed out that the author's exhibition of Vadym Koltun, the graduate of the Electric Power Engineering Faculty of the National Technical University «Kharkiv Polytechnic Institute», became the second in the series «Artists reared by KhPI». Among the guests there were the art expert, chief editor of «Pro Art» print edition Andrii Korniev, artists Mykhailo Brozghol and Oleksandr Serdiuk, the art expert, Associate Professor of the Kharkiv State Academy of Design and Arts Yevhen Kotliar, students of Computer Science and Information Technologies Faculty, lecturers and staff of our University. The author told about his creative development, he recollected the years spent at the Polytechnic University. The highlight of the evening were the musical compositions performed by Serhii Perepelytsa, an employee of the NTU «KhPI» museum and a friend of our library.