«Slavianyn» – literary and art journal of the Kharkiv branch of the writers' union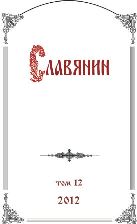 The literary and art edition «Slavianyn» has been published since 2010 and aims to acquaint admirers of professional literature with the achievements of modern poets and prose writers. You can also find literary criticism, memoirs and anniversary articles on the pages of the edition. 
The journal publishes literary works in the original language – in Ukrainian and Russian. On the pages of the edition there are also translations from different foreign languages – English, Czech, German, Polish and others. The authors of the journal live not only in Ukraine, but also in other countries: USA, Germany, Poland, Russia, Kazakhstan, Australia ...
The editorial board pays special attention to cooperation with literary associations, organizers of literary festivals and competitions. It is an opportunity to involve talented youth for participating in the preparation of the edition. Joint cooperation between authors who have already reached professional heights and amateur authors gives the journal a unique feature.
Current publication frequency – 4 times a year (quarterly)
Chief Editor — Machulin Leonid Ivanovych
The page of the edition on the publisher's website:  http://knigoizdat.org.ua/?page_id=238
ISSN 2221-9331